It all started with a Groupon…. A fun night out for me and my husband. "Let's go paint a picture" I said. "It will be fun!"… and it was.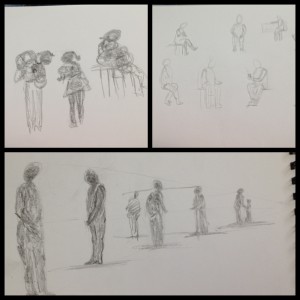 I caught the art bug that night and have since taken 4 others and signed up for an art class at the local college.
What started as a fun idea has turned into a new hobby and potential passion. I also had an experience that taught me a valuable lesson.
The first being.  Try new things. You never know what you are going to like, or not like, unless you try.
This second lesson was one of those ah ha's for me. At one of the saturday classes  we were learning how to draw silhouette's. By using letters of the alphabet you can create shapes of a person. Draw an upside down U add a W or a V a little O for the head, fill it in. Voila!.. a person.
Well it wasnt going to well as I tried to draw a person. I thought the head should be bigger and the body was huge the legs to skinny etc. Then something happened, I let go. I stopped trying to draw a person and just drew a person. I let myself play with the shapes and angles and the person materialized.
Yes there was some mistakes and sometimes they looked all wrong. But I kept playing with it, feeling it, being with it.
I gave myself permission to play with it.
It was truly a freeing moment. It taught me how to let go of control and just be with the pencil and paper. I suppose it's like a dancer just letting the music move them.
As I looked over at my classmates drawing and admired it, she was quick to tell me how horrible it was. But it wasn't. It was exactly what it should have been, silhouette's of people.  I saw how hard we are on ourselves. Trying to be perfect. I noticed that those who let go and had fun enjoyed the experience more.
Have you ever just let yourself go and have fun?
Do you find yourself to critical of attempting new things?
Have you discovered a new hobby or talent by just trying something that interested you?
I would love to hear your experiences in the comments below. What do you love to do to play and feel creative?
Feeling stuck?
Call Me Today, Start Change Tomorrow.
Lori Barnett, HHP
858-382-4576