I keep saying that I just discovered I like to do art. But I don't think that's a true statement. I believe I have always like to be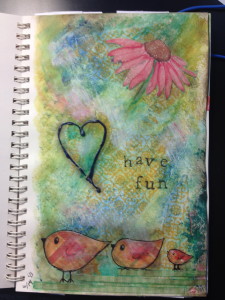 creative and "make art" I just had a belief and judgment about it.
I thought to do art you had to have a certain talent. Do it a certain way. But what I am discovering is, there are lot's of way's.
Above is one of the things I created in my art journal. ( I didn't even know there was such a thing. Thank You YouTube!) I love playing in my art journal. It is here that I try out different things from paint to paper, inks, stamps and more.
It's all contained in this little book and each page has a creation derived from me.
I cannot tell you how much pleasure I get from not only creating but from looking through my book.
How often do we stop ourselves from doing something that could be fun because of our false beliefs and judgments?
Take today's post as a nudge to try something that you think would be creative and fun. You may just discover a hidden talent.
Be well,
Lori
858.382.4576